Medical Writing Service
1. Service Contents
1) Design of clinical trial protocols for medical devices/different phases of clinical trial protocols or unconventional study protocols for drugs
2) Preparation of clinical protocol attachments (e.g., case report forms medical history, informed consent forms, and investigator's brochure)
3) Preparation of clinical study report
4) Publishing papers on core journals
5) Preparation of medical materials needed by clinical experts (e.g., questionnaire on updating treatment guidelines)
2. Service Team
The medical writing team consists of dozens of excellent medical experts, writing specialists and statisticians. The team has a powerful line-up. Core members have an average industry experience of more than 10 years, and academic background of famous medical colleges at home and abroad. Team members have proficient writing skills, rich project management experience, and excellent customer service awareness. They can scientifically use statistical analysis methods, rapidly and efficiently provide professional and customized medical writing service for clients. Medical Specialists all over China can provide on-spot consultation services for experts/investigators.
3. Project Experience
At present, the medical writing team provides service for nearly 100 famous medical device enterprises at home and abroad each year. The medical writing service covers 16 medical application fields including oncology, cardiovascular and endocrinology. The innovative protocol design concept, scientific and rigorous work style, rich medical writing experience and perfect SOP have won the team a good reputation in the industry. Adhering to the service principles of upright, honest, dedicated, cooperative, practical and realistic, we'll provide high-quality medical writing services and effective strategy support for partners.
4. Service Process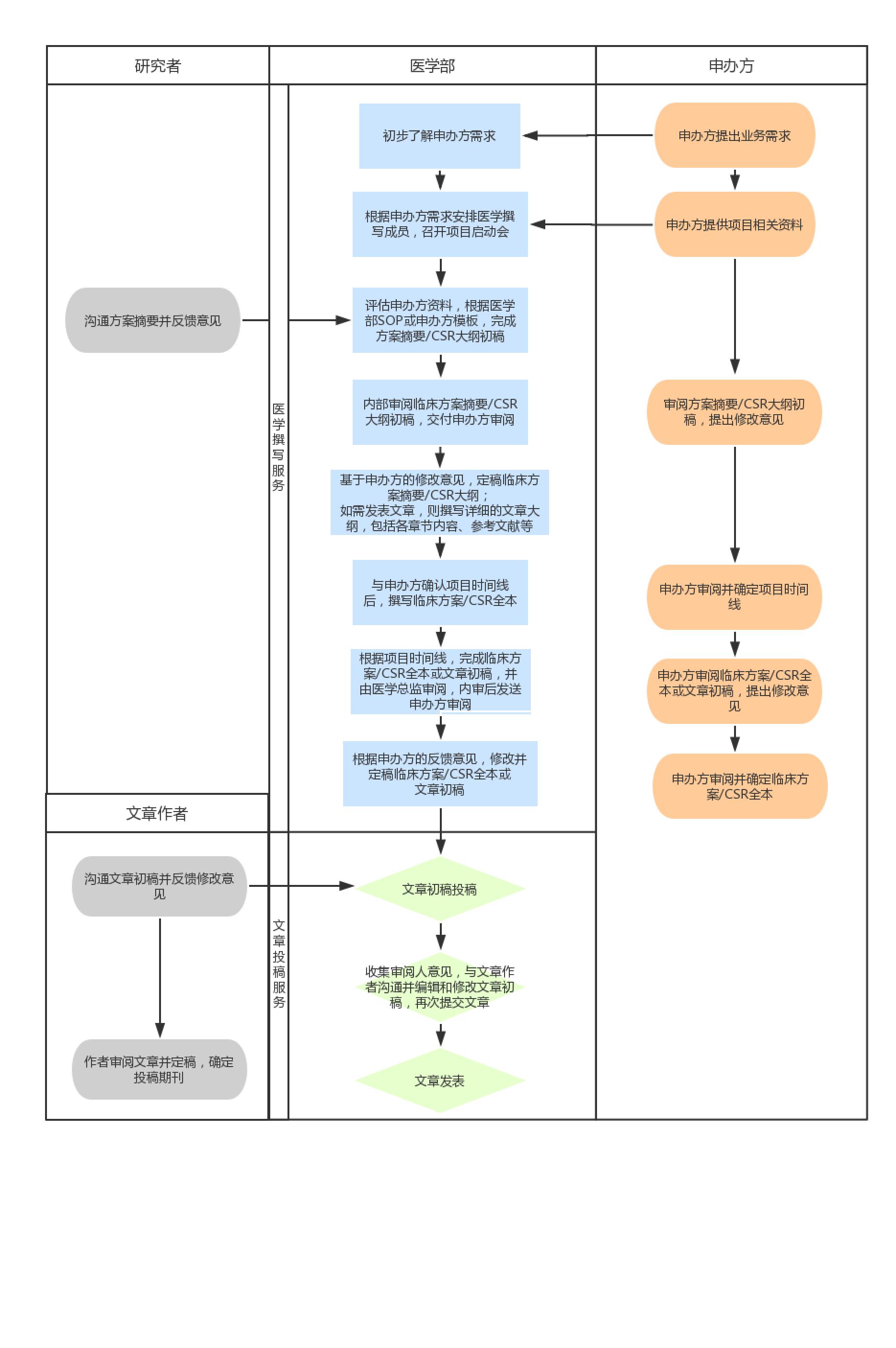 5. References
| | | | |
| --- | --- | --- | --- |
| Document Name | Document No. | Release time | Implementation time |
| Regulations on the Supervision and Administration of Medical Devices | No.650 Decree of the State Council | 2014-3-7 | 2014-6-1 |
| Administrative Measures for Medical Device Registration | No.4 Order of CFDA | 2014-7-30 | 2014-10-1 |
| Good Clinical Practice | No.25 Order of CFDA | 2016-3-23 | 2016-6-1 |
| Guidelines for Clinical Trial Design of Medical Devices | No.6 Order of CFDA | 2018-1-8 | 2018-1-8 |